BAQ Girl Talk: Is It Time To Dump My Boyfriend?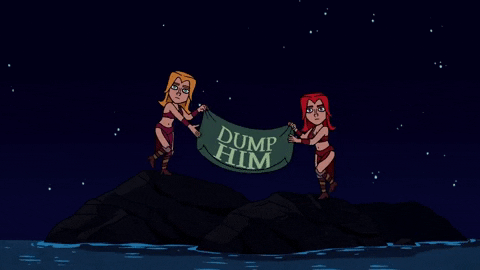 Happy Friday Queens! This post originally went live last week but the content of the post never actually posted, so today I am posting it again. Anyway, I hope your week was good and productive. For this week's girl talk I asked some of my followers to help me with this one. Many times, there are signs of when it is time to end your relationship but, we ignore them. I think we do this because we are comfortable. Comfort nor obligation is a reason to stay with someone, so I am here to help you with the assistance of some of my loyal subscribers and followers. Let's jump right on in.
I asked my Twitter and Instagram followers this question: 
@MsDee2Real, tweeted: "Content with all bare minimum is all aspects of life"
@__BreCapri, tweeted "He doesn't have goals or ambitions"
Alissa said, "I definitely feel like it's time if you don't receive support for your goals and what you want out of life". "Especially when you feel lesser than your partner because of it, GTFO girl".
Danni's Take:
I feel like there are tons of signs that we as women can point out but for me it is when I feel like I am only staying with the person out of obligation or comfort because at the end of the day that isn't fair to me or my significant other. Relationships should work when BOTH parties are in it for love, not because you don't want to go through the hassle of finding someone else. Also, it is important for us women to remember it is not our duty to accommodate anyone, if the relationship is no longer helping you shine and vibrate on a higher frequency then RUN SIS! 
I hope you ladies enjoyed this week's Girl Talk. Have a good weekend and I'll talk you all next week!
Love,
Danni J



Please reload